Small businesses looking for ways to leverage local sports properties without owning rights to marks just need to think creatively to capitalize on fan affinity
Bertucci's, a Northborough, MA company that runs a chain of Italian restaurants, recently found a unique way to capitalize on it's restaurants proximity to Fenway Park. The company is featuring a giant billboard under the iconic Citgo sign just two blocks behind Fenway Park that says, "Free Dinner for Everyone at the Ballpark If a Homerun Hits This Billboard (If Not, Distinctive Deals Start at Just $9.99)".
While the billboard's claim is outlandish (because a home run would never travel that far), it is an extremely relevant messaging piece to thousands of Red Sox fans passing by the sign to hop on the subway after taking in a game at Fenway. The piece demonstrates how local businesses can capitalize on professional/collegiate sports taking place nearby without owning rights to marks or mentioning affiliated terms (e.g. Red Sox, Fenway, etc.). Check out the creative billboard campaign below:
Whoever is behind Bertucci's outdoor campaigns is a pure marketing genius. In 2007, the chain featured a billboard that mirrored the look of the city's transit signs, subconsciously drawing the eye of consumers passing by. It was an extremely creative tactic that attracted the attention of several media outlets, including Adrants.com.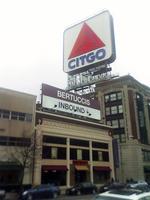 Source: PCE 2210 Flickr Page