Monday, May 19, 2008 at 09:58PM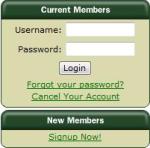 Have you considered numerous ways to target your fanbase online? Have you brainstormed ways to increase the engagement level of your team emails/text messages?
The Green Bay Packers decided to target their fans by starting at the origin of communication, partnering with Hotmail to create a free web-based email platform for its fans across the globe. Packers fans can now demonstrate their team loyalty with a [email protected] web address by simply signing up for a free account through the team website.
A simple, yet great idea by the Packers organization!