Wednesday, October 27, 2010 at 10:49PM
Sports organizations looking for new ways to utilize their YouTube channel to drive buzz around a product/season ticket launch should take a close look at Nike's latest viral campaign entitled "Only the Fastest".
Nike launched the campaign yesterday (10/26) with a 35-second viral designed to drive buzz for the launch of Cristiano Ronaldo's new soccer boots. The clip takes viewers along for a ride as Ronaldo's boots leave Nike Global HQ in Portland and are shipped out to their final destination for the product launch on October 28th. The viral, which has generated 130K views in less than 48 hours, leaves viewers with a level of suspense, as no one can really expect what is coming next.
Nike does a tremendous job using simple tactics (the copy block underneath the video) to drive people to its "Only the Fastest..." Facebook page. Thus far, 10,000+ consumers have opted to "attend" the special event (which is rather vague) while another 3,400 are possibly attending (translation - 1 in 13 consumers who viewed the viral opted in for the Facebook event).
Check out the viral and the Facebook page below:
VIRAL
YOUTUBE CHANNEL (WITH CALL-TO-ACTION IN COPY BLOCK)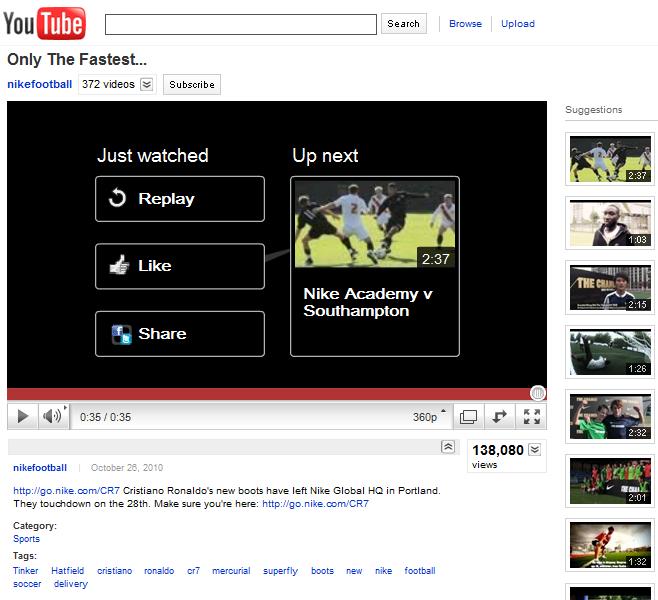 FACEBOOK PAGE