Sunday, July 17, 2011 at 08:16PM
In July 2009, Evian struck gold when it released an Evian Roller Babies commercial that quickly became one of the most successful media campaigns of all-time. The clip, featuring a collection of virtual babies performing a series of stunts on roller skates in conjunction with the brand's tagline "Live Young", attracted nearly 60 million views online and generated a significant amount of buzz for the brand.
Now, two years after the launch of the Evian Roller Babies, the brand is still capitalizing. Evian launched a "Let's Baby Dance" campaign that enables consumers to film a video of themselves dancing while wearing a virtual baby shirt to become a part of the longest music video ever produced. The microsite includes tabs where consumers can purchase t-shirts and ringtones utilized in the campaign and download an official iPhone application.
Evian is supporting the campaign with a fully-branded Facebook Page and YouTube page that host a series of entertaining virals. Check out two of the "Baby Inside" virals produced to date:
Evian even produced a version in support of the 2011 Wimbledon tournament, in which the brand was an official sponsor:
The campaign is extremely simple yet brilliant because it demonstrates how teams and brands alike can bring commercial campaigns to life online and potentially capitalize on new streams of revenue from apparel/licensing. If a team/league were able to benchmark this effort and generate buzz around an item of apparel online, they could surely create demand and capitalize on licensing.
Check out some snapshots of the "Lets Baby Dance" microsite below: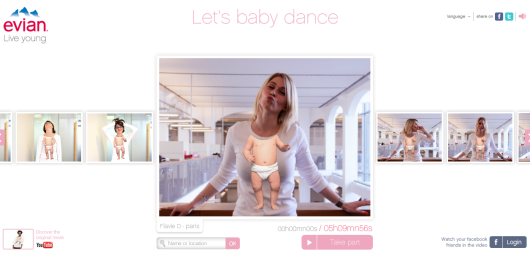 Save & Close