Tuesday, March 29, 2011 at 10:45PM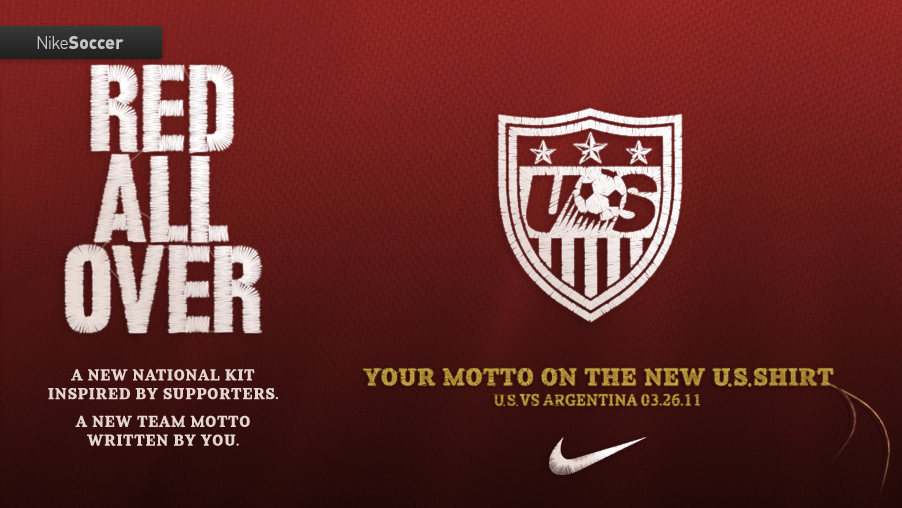 Nike looked to capitalize on the U.S. Men's National Soccer Team's recent international friendly against a renowned Argentina team at the New Meadowlands Stadium by creating an expansive "Red All Over" campaign.
A few weeks leading up to the match, Nike turned to soccer fans on Twitter to create a motto that would serve as the focal point of its "Red All Over" campaign. Nike encouraged soccer enthusiasts from across the world to submit their ideas over a five-day period using the hashtag #redallover. The campaign proved to be extremely successful, with thousands of entries pouring each day.
Ultimately, Nike found their answer for the campaign - a slogan that stood out from all the rest. The slogan, "Indivisible", was submitted by William Bachmann II of Orlando, FL, who uses the Twitter handle @WBachmann2. The slogan came from an unlikely source but proved to be exactly what Nike was looking for with the campaign. The slogan was sewn onto the jerseys of all the U.S. players for the match and soon became a storyline that captured the world's attention.
Note: As part of the campaign, fans were encouraged to wear red to New Meadowlands Stadium for the game on March 26th in support.
Check out a video detailing the promotional initiative below: