Friday, October 21, 2011 at 11:33PM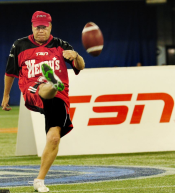 Over the past seven years, Wendy's has captured the interests and attention of millions of football fans throughout Canada by offering a Kick for a Million promotional platform that rewards CFL fans for eating at its chain locations.
The QSR chain leverages its status as an official partner of the Canadian Football League as well as a media partnership with TSN to feature a live halftime promotional contest that offers one lucky fan a chance to kick a 50-yard field goal for the chance to win $1 million. In addition, Wendy's grants the participant an opportunity to also attempt field goals from 20, 30, and 40 yards for the chance to also win a Samsung $25,000 Family Package, a 2011 Nissan Titan Crew Cab Pro, and $100,000 cash.
Fans can participate in the Kick to Win contest by visiting participating Wendy's locations throughout Canada to receive a game cup that offers a chance to win a variety of instant prizes, including Nissan automobiles, Samsung Galaxy tablets, Reebok merchandise, and Wendy's gift cards and food prizes. Fans who purchase Wendy's on a regular basis can also receive bonus entries for the chance to kick for $1 million.
The structure of the promotion, offering a series of lower-tier prizes, demonstrates how league partners can collaborate to amplify promotional events - both in-stadium and at retail. In total, Wendy's Kick for a Million contest generated 18 million entries - the most ever in the history of the contest. Wendy's has even attracted 11,000+ fans to "like" the promotion's official Facebook page.
Check out Wendy's Kick for a Million promotional video below:
Check out Wendy's Kick for a Million contest execution here:
A special thanks to Kelsey Philpott of GMR Marketing for his insights and contributions to this column!