Sunday, July 17, 2011 at 07:27PM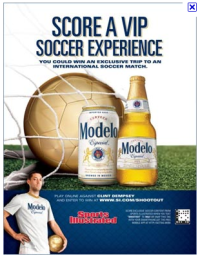 Modelo Especial recently announced a sweepstakes opportunity for soccer fans throughout the United States in conjunction with a rare partnership with current United States Men's National Team soccer player Clint Dempsey.
The partnership is unique because the United States sports marketplace does not often see current players align themselves with alcoholic beverage partners, notably International brands. The partnership also ties in a third party media outlet, Sports Illustrated, to host the site and provide additional value to the winners.
Modelo Especial is featuring Dempsey in a national sweepstakes offering soccer fans a chance to win a soccer trip of a lifetime. The brand is supporting the sweepstakes with a television ad, POS, and a terrific microsite that allows fans to play goalie against Dempsey in a virtual shootout competition.
Consumers can win the sweepstakes, which awards five (5) grand prize winners a trip for two to attend an International soccer match of their choosing, by entering via tearpads on Modelo Especial POS displays at retail and online at www.SI.com/Shootout, which hosts the microsite. Residents of California can submit an essay for the chance to win a trip to Europe, interview Dempsey live, and blog about their experience attending a Barclays Premier League match on the Sports Illustrated website.
Consumers can also scan QR codes on Modelo's POS displays at retail to unlock exclusive Sports Illustrated content about the top 11 soccer players in the world.
Per a recent Los Angeles Times article, Dempsey doesn't see any issues pitching a Mexican beer brand and is excited to partner with Modelo Especial after growing up near Mexico and learning a lot from Mexican players. However, it's ironic to note that Modelo's television ad featuring Dempsey recently aired shortly after the United States lost to Mexico 4-2 in Gold Cup play in June.
Check out the campaign and microsite below: