Tuesday, September 6, 2011 at 11:03PM
It's become relatively common in the sports marketplace for properties to align with corporate partners to promote philanthropic efforts, notably breast cancer awareness. However, it's still a relatively untapped effort in high school athletics... until now.
The San Marcos Academy Bears, a high school football team from San Marcos, Texas recently partnered with Chick-fil-A (at a local level) and A+ Federal Credit Union to promote breast cancer awareness by wearing branded all-pink Wilson jerseys and hosting a "Pink Out" night. As part of the effort, the team specifically endorsed the Austin Affiliate of Susan G. Komen for the Cure and their efforts to fight breast cancer in the local community.
For the second consecutive year, the Bears wore bright pink jerseys, featuring a printed pattern of the Chick-fil-A and A+ Federal Credit Union logos in return for their support and investment in the team's exclusive night.
Funds raised from sales of the team's pink jerseys supported local breast cancer treatment, screening, and education programs through the Komen Austin Affiliate. Each of the players on the San Marcos Academy football team were given an opportunity to purchase their own jersey, however jerseys that were not purchased were sold for $50 on a first-come, first-served basis.
Check out a photo of the San Marcos Academy Bears' special jerseys below: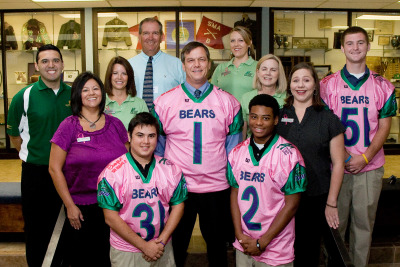 For More Information, Click Here.