Tuesday, June 21, 2011 at 10:46PM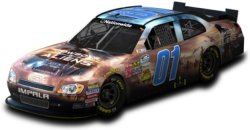 JD Motorsports recently unveiled an innovative partnership with the upcoming action-thriller film Cowboys & Aliens that is generating a notable amount of buzz in the NASCAR space. The partnership marks the first time that a film will serve as the primary sponsorship of a car for multiple races during the weeks leading up to July 29th, the date the movie is released in theatres.
JD Motorsports and the producers of Cowboys & Aliens are leveraging their partnership with an innovative social-media driven promotion that will enable 60,000 fans to have their face featured on the mosaic version paint scheme of the car. To participate, fans simply have to log on to the Official Cowboys & Aliens Facebook Page or the film's official microsite, and input their contact information and upload a photo. The "face car" paint scheme will be unveiled at the Subway Jalapeno 250 at Daytona International Speedway on July 1st. By entering the promotion, fans can also win an exclusive trip to Daytona to see their face embedded on the hood of the JD Motorsports car live.
JD Motorsports teamed up with Jim Varga, the founder of Social Fan Wrap, to create the fan mosaic car concept which will feature approximately 25,000 fan photos on each paint scheme of the No. 01 Cowboys & Aliens car, driven by Mike Wallace. The unique promotional campaign demonstrates how NASCAR teams and associated stakeholders are utilizing technology and social media to take their partnerships to the next level!