Saturday, October 22, 2011 at 12:09AM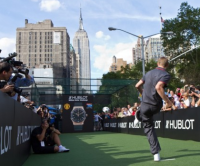 Over the past few years, several watch companies have begun investing large sums of dollars on event partnerships, athlete endorsements, team partnerships, and more. As sports organizations look to leverage partnerships in this category in new ways, many should consider benchmarking a promotional tactic that Hublot and Manchester United partnered on in 2010.
Luxury watchmaker Hublot teamed up with Manchester United to host a Million Dollar Challenge event in New York City that featured several players as well as manager Sir Alex Ferguson shooting soccer balls at a giant target (replicating a Hublot watch) for the chance to raise funds for UNICEF. As part of the promotion, Manchester United players were challenged with striking a giant replica watch with a shot from 51 feet away to donate $1 million to UNICEF, a philanthropic entity that ManU has supported for 10+ years.
While no player successfully accomplished the feat, Hublot still donated a significant amount of money to UNICEF and generated buzz worldwide with the event. The PR stunt demonstrates how organizations can create engaging activation/PR stunt displays for watch companies that will attract consumer interest and attention. Consider ways that your team can benchmark this tactic to bring official watch partnerships to life!
Check out Hublot's activation tactic below: