In December 2010, Land Rover signed on as an Official Partner of the Emirates Airlines Dubai Rugby Sevens and leveraged its affiliation with several terrific fan engagement initiatives. Land Rover announced the partnership in conjunction with a global announcement that it would serve as an official sponsor of the Rugby World Cup 2011 in New Zealand.
The Land Rover display at the Rugby Sevens featured a number of an interactive rugby-related games, including a Land Rover Scrum Down Challenge, Wheel Spin Challenges, and a Big Boot Challenge. Land Rover offered all participants a chance to enter to win a free Land Rover for a year.
Land Rover Scrum Down Challenge
The Land Rover Scrum Down Challenge truly tested the strength of rugby fans. Teams of consumers were challenged to see if they could push a Land Rover using a rugby scrum machine.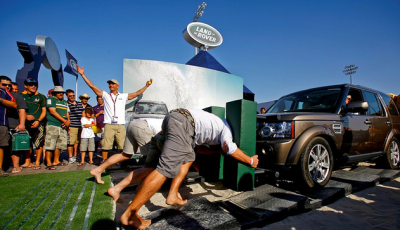 Wheel Spin Challenges
The Wheel Spin Challenged tested the passing accuracy of rugby fans. Consumers were challenged with throwing passes through a series of spinning car wheels.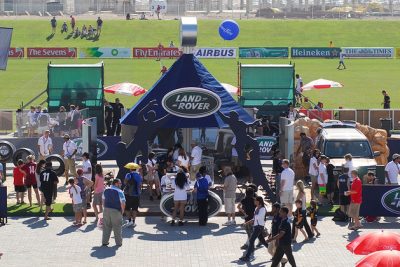 Big Boot Challenge
The Big Boot Challenge featured a select number of rugby players from the UAE competing to see who could drop kick a rugby ball through the goal posts during an on-field competition.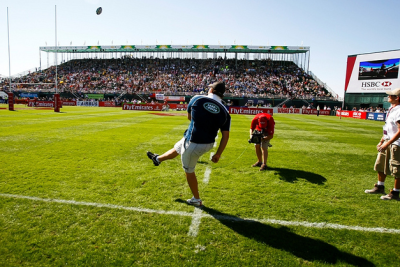 The Rugby Sevens attracted 120,000+ fans over a three-day span from December 2-4, 2010. As one can tell from the pictures depicted above, many rugby activation tactics can be applied in the NFL and college football (and vice versa). Check out a full video recap of Land Rover's Rugby Sevens activation below:
Source: Ameinfo.com