Wednesday, July 7, 2010 at 09:36PM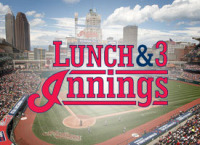 Are you looking for new ways to attract fans to the ballpark? Are you looking to create promotions that specifically target businessmen working 9-5?
The Cleveland Indians are currently offering a terrific "Lunch and Three Innings" promotion that enables persons working downtown to purchase a $15 upper deck ticket to the ballpark for games played at 12:05pm and receive a $10 credit towards lunch at any Progressive Field eatery.
The $10 concessions credit is applied via a bar code on the ticket that can be easily scanned. The promotion, devised by Indians Vice President Bob DiBiasio, has proven to be very popular yet just one other MLB organization (the Cincinnati Reds) currently promotes a similar offer.
Thus far, the Indians have held five (5) "Lunch and Three Innings" promotions in 2010 and have another scheduled for the team's home game against the Chicago White Sox on September 1st. From a traction standpoint, the Cleveland Indians recently sold 1,250 (of 3,065 game day tickets sold) for the Lunch and Three Innings Promotion when the team hosted the Toronto Blue Jays for a 12:05 game on Thursday, July 1st.
While most consumers who purchase the Lunch and Three Innings offer stay for about 1.5 hours before returning to work, the promotion serves as a great way to get fans in the stands and engaged in the action and entertainment offered at Progressive Field. But business people are not the only ones taking advantage of the unique offer. A camp counselor recently brought 250 kids to a game, realizing that he only had to pay $5 a ticket once the offer was all said and done.
Hats off to the Indians for coming up with an out-of-the-box idea to fill the stands at Progressive Field during afternoong games!
Source: Cleveland.com