Monday, October 19, 2009 at 06:38PM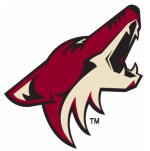 Are you looking for new ways to bump attendance at home games this season? Are you looking for ways to rejuvenate excitement amongst your fans?
Heading into the 2009-10 season, the Phoenix Coyotes are offering a "We Win, You Win" promotion designed to drive attendance at select games tis season. As part of the team's "Join the pack" season marketing initiative, the Coyotes have designated five (5) home games this season where fans can win a free ticket to a future home game if the team wins.
The Coyotes will be distributing a voucher for a free ticket to an upcoming game to fans attending one (1) of the following five (5) Saturday games. If the team wins, fans can redeem their voucher for a free ticket exclusively at the Jobing.com Box Office.
Saturday, October 24th vs. Los Angeles Kings
Saturday, November 14th vs. Dallas Stars
Saturday, December 5th vs. Ottawa Senators
Saturday, January 16th vs. Minnesota Wild
Saturday, February 15th vs. Dallas Stars
The team's 2009-10 marketing efforts are designed to strengthen the relationship between the organization and its fan base after a rocky summer of buyout and relocation talks. It will be interesting to see if Coyotes fans respond favorably to the promotion and whether it is a move that will either generate incremental ticket sales or backfire down the road (e.g. fans waiting for another free offer to attend games vs. taking action and purchasing). Nonetheless, it is a creative way to drive interest in the team and fill the seats at the Jobing.om Arena.