Sunday, June 6, 2010 at 08:43PM
Nike is celebrating Team England's 2010 World Cup run with one of the most unique outdoor billboard adverts seen to date. Nike recently unveiled a giant billboard emulating Mount Rushmore that featured the faces of four (4) of England's prominently known soccer players. The billboard, completely made of rock, is the largest billboard in the UK, measuring 75m x 16m x 2m. The massive billboard, which supports Nike's "Write the Future" campaign, is expected to be seen by an astounding six (6) million consumers.
The only issue?
Three (3) of the players featured in the billboard campaign - Wayne Rooney, James Milner, and Rio Ferdinand - made the England World Cup team. However the 4th - Theo Walcott - did not. Ironically, Walcott's face will be featured in the rock sculpture display next to the word's "Play to be Remembered", but he will actually not be playing in the World Cup at all.
Nonetheless, the billboard serves as one of the greatest outdoor spectacles in sports and will be forever remembered by many in England and across the world for years to come... Not bad for a non-Official World Cup sponsor!
Check out the billboard campaign below: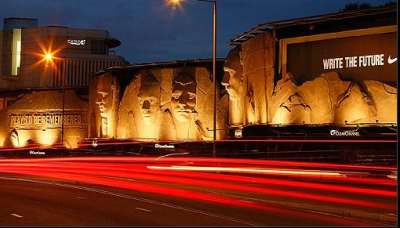 Source: EPL Talk