Saturday, October 24, 2009 at 02:10PM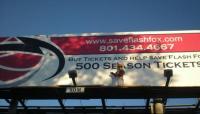 Are you looking for new ways to spur ticket sales? Are you looking to leverage a team mascot in a media campaign?
The Utah Flash of the NBA D-League recently called on their mascot, Flash Fox, to pull of an incredible stunt to drive season ticket sales. The team asked their mascot to live atop of a billboard along I-15 in American Fork, UT until the team sold 500 incremental season ticket packages... so he did.
On Friday, October 16th, Flash Fox took residence on a billboard touting the team's "Buy Tickets, Save Flash Fox" campaign and lived there for a full week until the team sold 500 season ticket packages. To pass the time, Flash Fox chatted with fans online, broadcasted his day-to-day actions to fans across the nation via Ustream, and camped out with a tent and a rocking chair.
The Utah Flash did a tremendous job supporting the campaign with a custom microsite (www.saveflashfox.com) that fostered Flash Fox's online fan interaction and linked to official Twitter/Facebook pages that featured frequent posts and video updates. The site featured tickers that detailed how long Flash had been living on top of the billboard and how many tickets still needed to be sold. It also mentioned local companies/persons who purchased tickets in support of the cause.
When the team successfully sold 500 tickets, it called on the local fire department to help Flash Fox get down and filmed the entire story. Check out a terrific video of the entire campaign here:
Check out some of the media exposure the team received from the campaign: