Sunday, January 2, 2011 at 07:16PM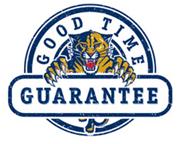 The Florida Panthers recently turned to a new ticket sales strategy to draw fans to the Bank Atlantic Center in January. The Panthers are offering a "Good Time Guarantee" that ensures fans that they will receive their money back if they don't have a good time at any of the team's nine (9) home games during the month.
The Panthers are leveraging the guarantee and appealing single game ticket offers (game ticket and free parking for $9) to attract fans to the arena and assure an unforgettable live game experience. The Money Back Guarantee applies to up to four (4) tickets for one (1) game during the month of January. The refund guarantee does not incorporate issues due to service, maintenance, parking, or building fees.
Sunrise Sports and Entertainment President and COO Michael Yormark commented on the unique promo by saying, "We have been saying all season long that Florida Panthers hockey at the BankAtlantic Center is one of the best live experiences in South Florida, and the professional sports industry. Now, we are putting our money where our mouth is and guaranteeing that incredible experience or your money back."
A "Good Time Guarantee" serves as a creative, unique idea for sports organizations looking for ways to spike attendance during months of slow attendance or poor attendance. It's important to note that the Panthers have played this strategy right - only offering it for a month-long period. Organizations can offer the "Good Time Guarantee" as a general slogan/cause throughout a season but they would not want to consider making a full ticket refund available for fans purchasing multiple game ticket packages.